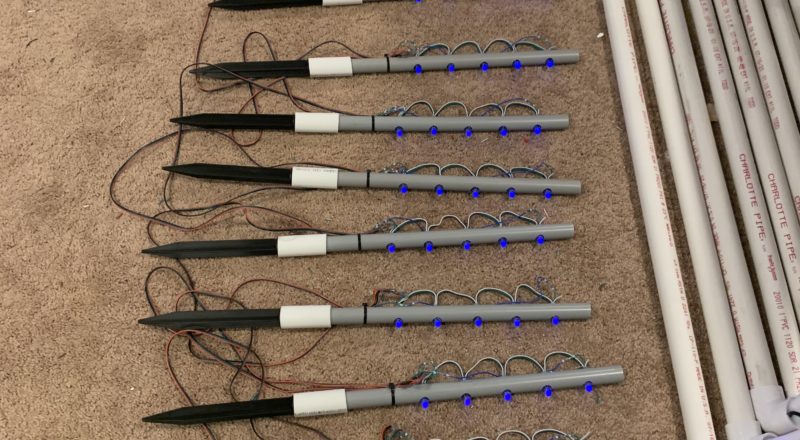 Well, my variation of them, anyways. Cheap and durable, but quite a bit larger than the original.
Peace Stakes are named after the Peace Family Light Show, which was featured on ABC's Great Christmas Light Fight in 2018. They seem to have originated using small stakes with relatively few pixels on them as a decorative element.
I thought they would be great for using up odds-and-ends pixel strings, and at least initially planned on using them along some edges of our yard, although my wife has other ideas now. 😀 We aren't 100% sure what we will use them for yet, but will figure it out in the next couple of months.
You can buy coro-stakes from Boscoyo Studios or Gilbert Engineering, and I'm sure others, and even order custom pixel strings with pigtails for them, but I chose to make them myself. I'm using dirt-cheap 1/2″ electrical conduit with 1/2″ holes drilled on 2″ centers for the pixels.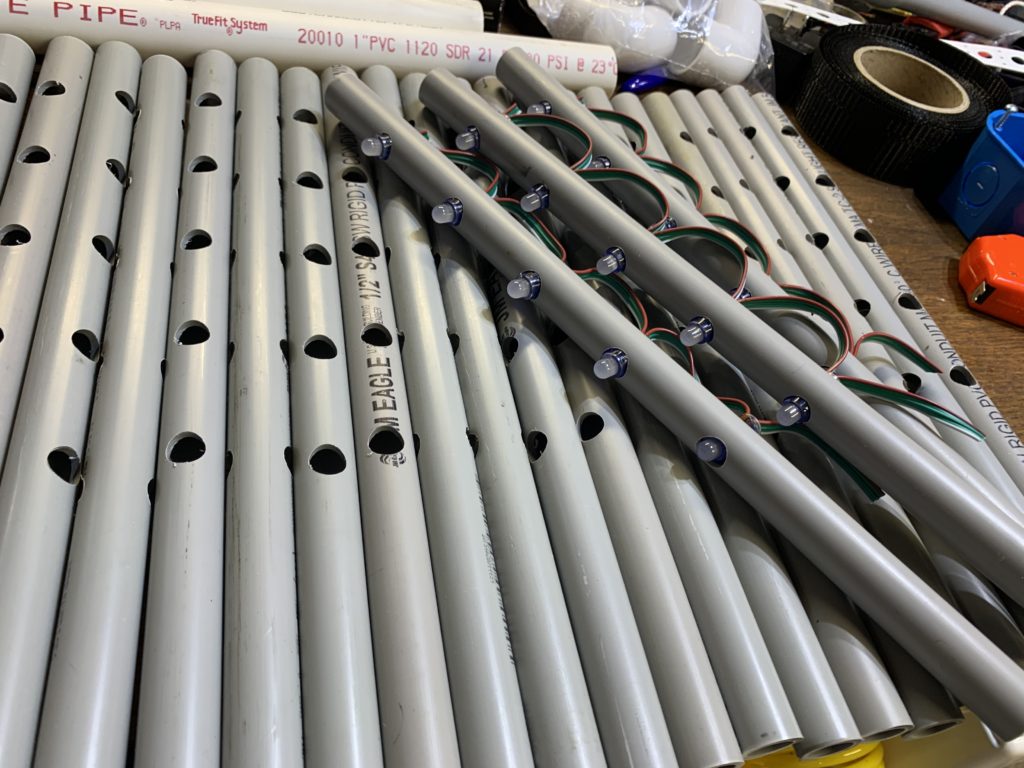 In order to drill them- I used a little jig I made out of some scrap wood and my drill press. I used drill-driver bit holders as positioning pins because they turned out to be the perfect size for the "back side" of the holes when I drilled them using a step bit. This let me keep them reasonably aligned and uniform.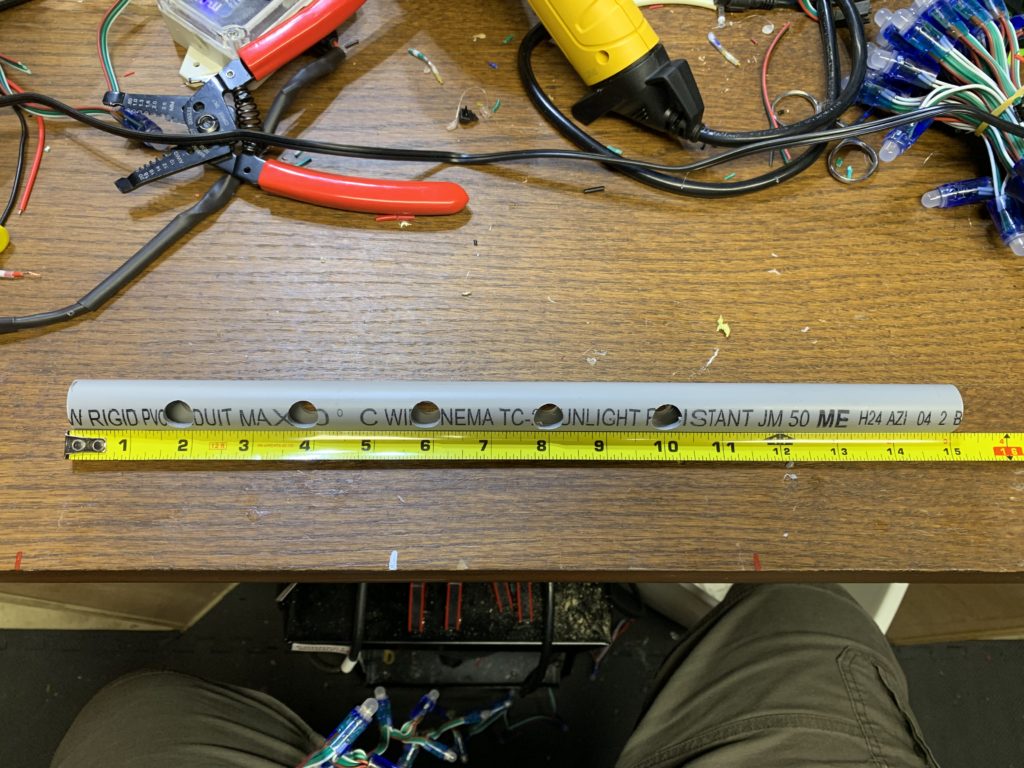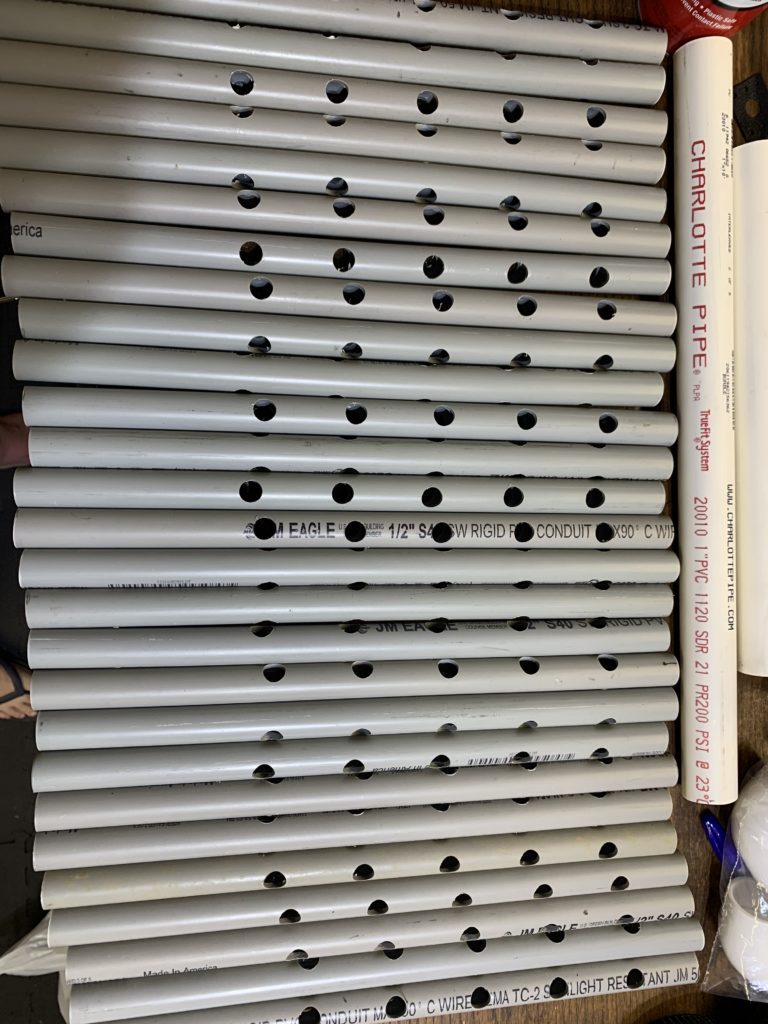 Using a 1/2″ step bit- I drilled both sides. The first side used the pins in the jig to keep things fairly straight (some of the holes are a bit off, but close enough). For the backside- the step bit itself is self-centering, so I just needed to finish the holes to 1/2″. It took some time and I will be cleaning up little curly bits of PVC for months.
The pixels slip fairly easily into the holes. I pushed them so the tops were all the way through to maximize viewing angles. Since they can slip around a bit- I put a dab of hot-melt glue on the backs of them to keep them secure.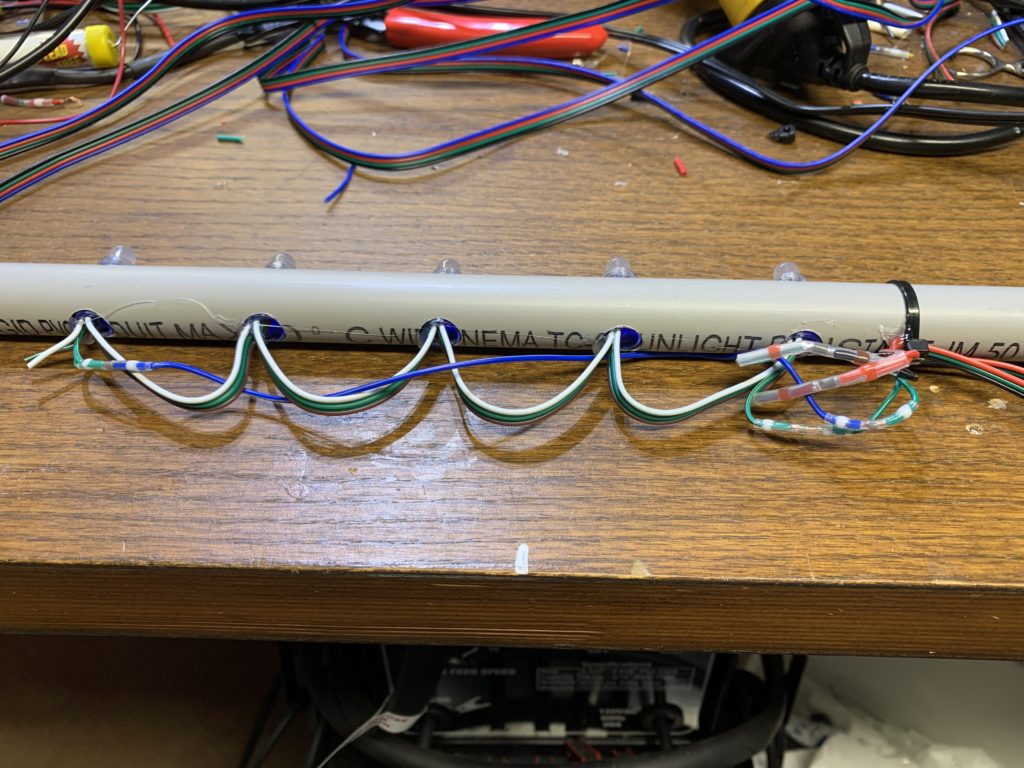 I wired them up ten at a time to give me some flexibility on placement. They have about 2.5′ of wire between them, which was what I figured I needed to use them as borders. (It also used up all of the wire I had left.) It was also a safe distance for the data channels without using null pixels or F-amps. It's easy to extend them if I need to later.
The IN wires are just wired to the first pixel, and a data wire runs from the top pixel down to the OUT wires that go to the next stake. I just used LED wire, similar to what is used for the pixels themselves.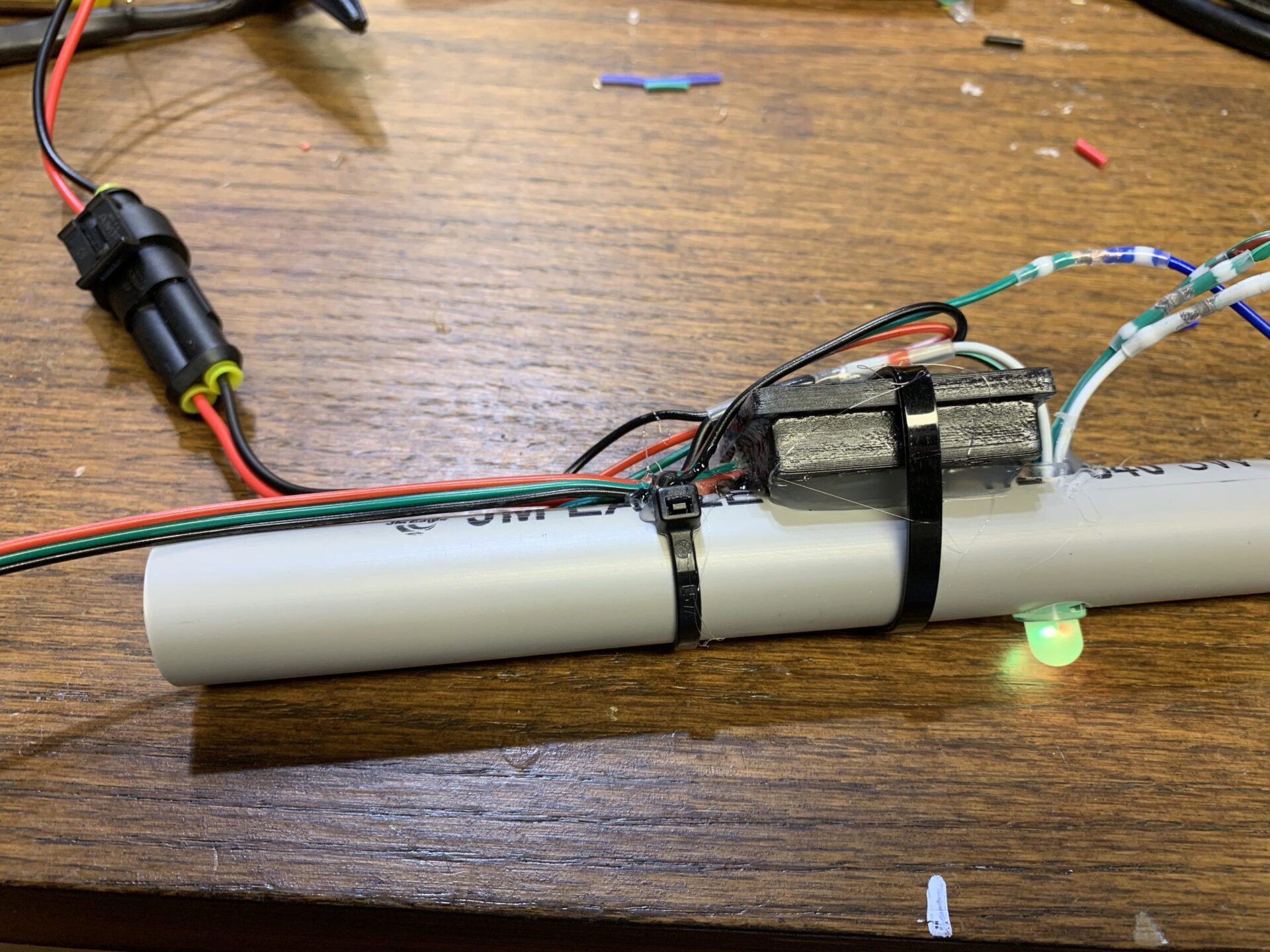 The first stake in each group has a wireless controller fastened to it. (I use D1 Mini Node MCUs running ESPixelStick firmware, in custom 3D printed boxes.) Both ends have power connectors so I can power them from either end, or use power injection, although with only 50 pixels per group- the latter isn't really necessary.
Basically- I just have to power them up. The controller attaches to WiFi and connects to my show controller, and starts playing whatever is running on it. I use FalconPlayer (FPP). I covered that build here:
https://lunardenlights.com/2020/08/21/wifi-ap-and-falconplayer-fpp-ammo-box/
Now, one thing I failed to fully consider is actually putting them in the ground. It would be possible to cut the end to an angled point using a jig in a miter saw. I also hoped I could find some landscaping stakes that would simply fit into the end, but that didn't happen. Another possibility was to just use galvanized spikes as stakes and slide them over the top.
In the end- I found these cheap "solar light" stakes on Amazon that I decided to work with instead. They don't fit inside the 1/2″ conduit, but they are the same width as the diameter of the tubing. I did some experimenting and found that they fit almost perfectly inside 1″ PEX!
I cut 2.5″ PEX sleeves and hot-glued the stakes into them. They then just push them onto the bottom of the 1/2″ conduit. The connection is a little bit loose, so I may end up putting a dab of hot-glue inside the PEX so the stakes are securely connected, but can be easily separated for storage if needed.
Here is the final result: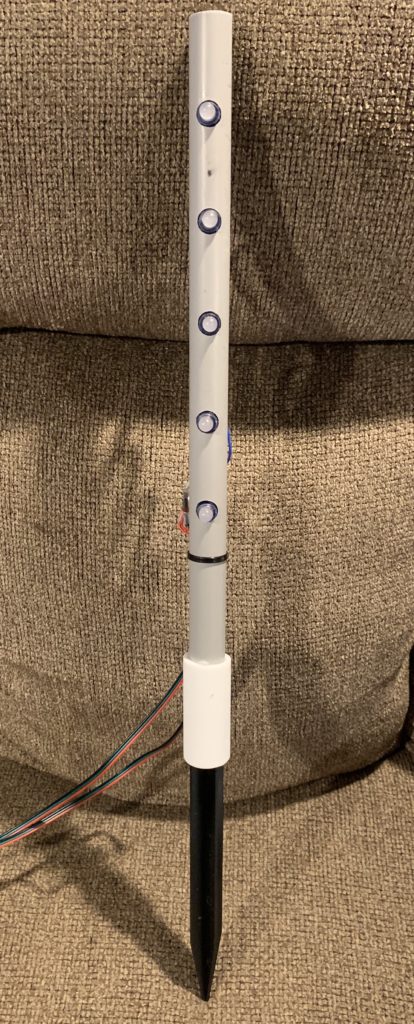 …and here are the first ten lit up:
They are significantly larger and will sit up higher than the original Peace Stakes, but should last for many-many seasons. I think the height will be an advantage as our home sits on a hill and much of the viewing area is down-hill. I finished the other 20 yesterday, so now we just need to figure out what to do with them, and more-importantly- do we need more? 😊
Quick Update (January 2021):
We ended up running 50 in 2020, and will be doubling the number in 2021. The NodeMCU controllers didn't work well, so I ran them off of a Hanson Differential Receiver connected to my Kulp K16A-B controller.