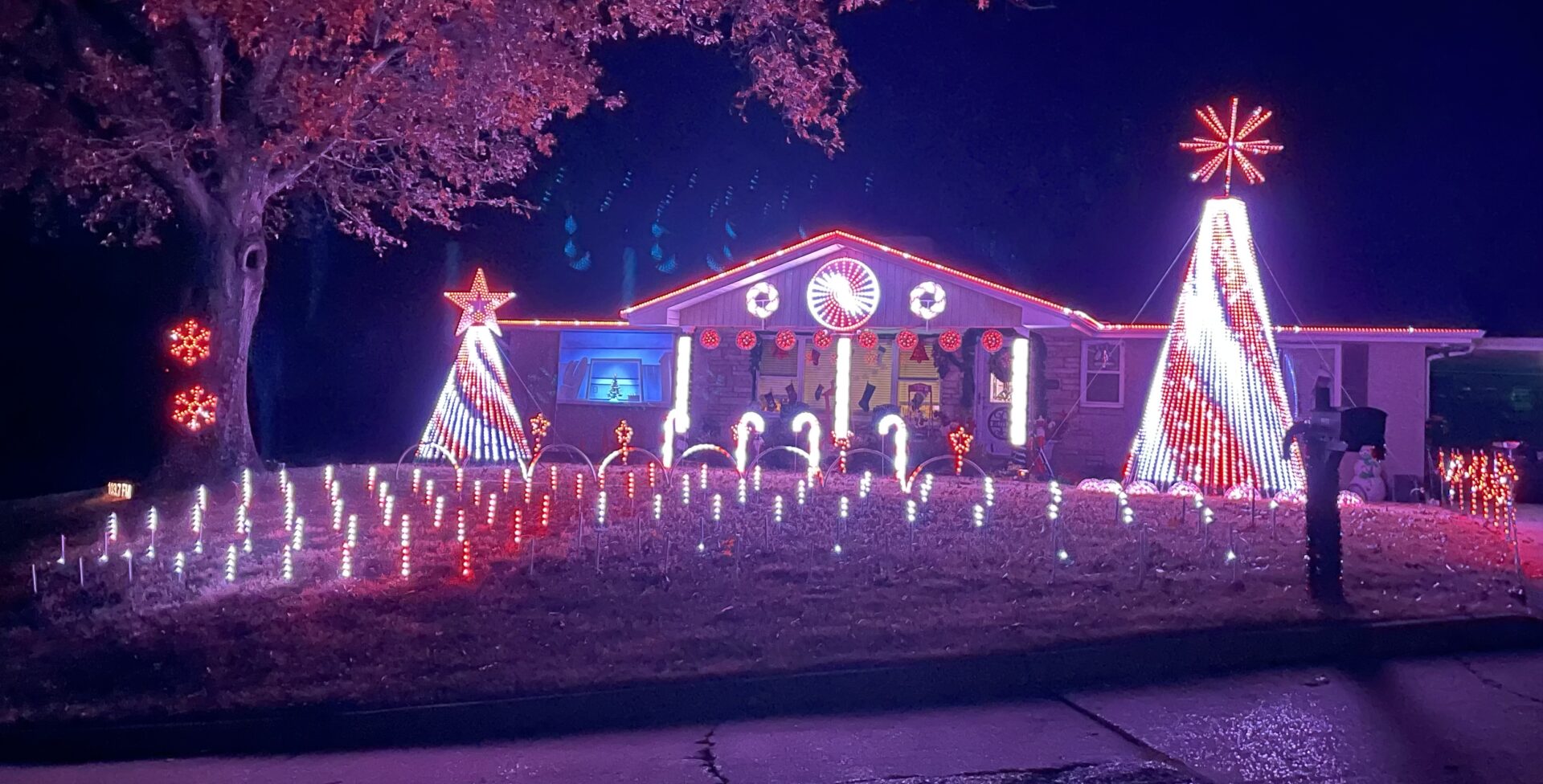 Oak Hills Lights 2022 Stats
This year, we had…
19,540 pixels (individual lights able to display millions of colors) consisting of:

11,860 LED pixel module "bulbs".
7680 LED pixels in 15 "P10" sign matrix panels.

A projected matrix of 57,600 virtual pixels.
We used 12 controllers (Tune-To sign controller is not shown above) and 12 differential receivers (remote controllers), running on a dedicated show network.
From Thanksgiving through New Years Eve our show used used 170.4kWh of Electricity.
At Ameren's Tier 1 Winter Rate of $.0881/kWh, that amounts to $15!
We had a total of 14 failures, which is about average:
2x Fuseholders (Couldn't handle rated current capacity!)
5x Pixels – Data corruption.
4x Pixels – Stuck on color.
3x Pixels – Not passing data.
Most of the failed pixels were COVID pixels produced from 2020-2021. These are known to have a high failure rate. Most were also on the trees, which are subjected to great physical stress due to the wind.
We also had about a dozen Peace Stakes damaged by deer, along with three arches that were knocked down by them.
During the big pre-Christmas "Boom Cyclone" storm we had sustained winds of 30+ MPH with gusts in the mid-50s, with temperatures dipping below zero. While our conventional decorations on the front porch were blown over, our light show props sustained NO damage from it! In high winds earlier in the season we did have some issues with the maxi-tree star, candy canes, and star stakes being "temporarily repositioned", but those were all shored up prior to the pre-Christmas storm.
All-in-all 2022 was great! We are already planning our 2023 show, and are just waiting for some of the mud to dry in the front yard before packing up for the season.