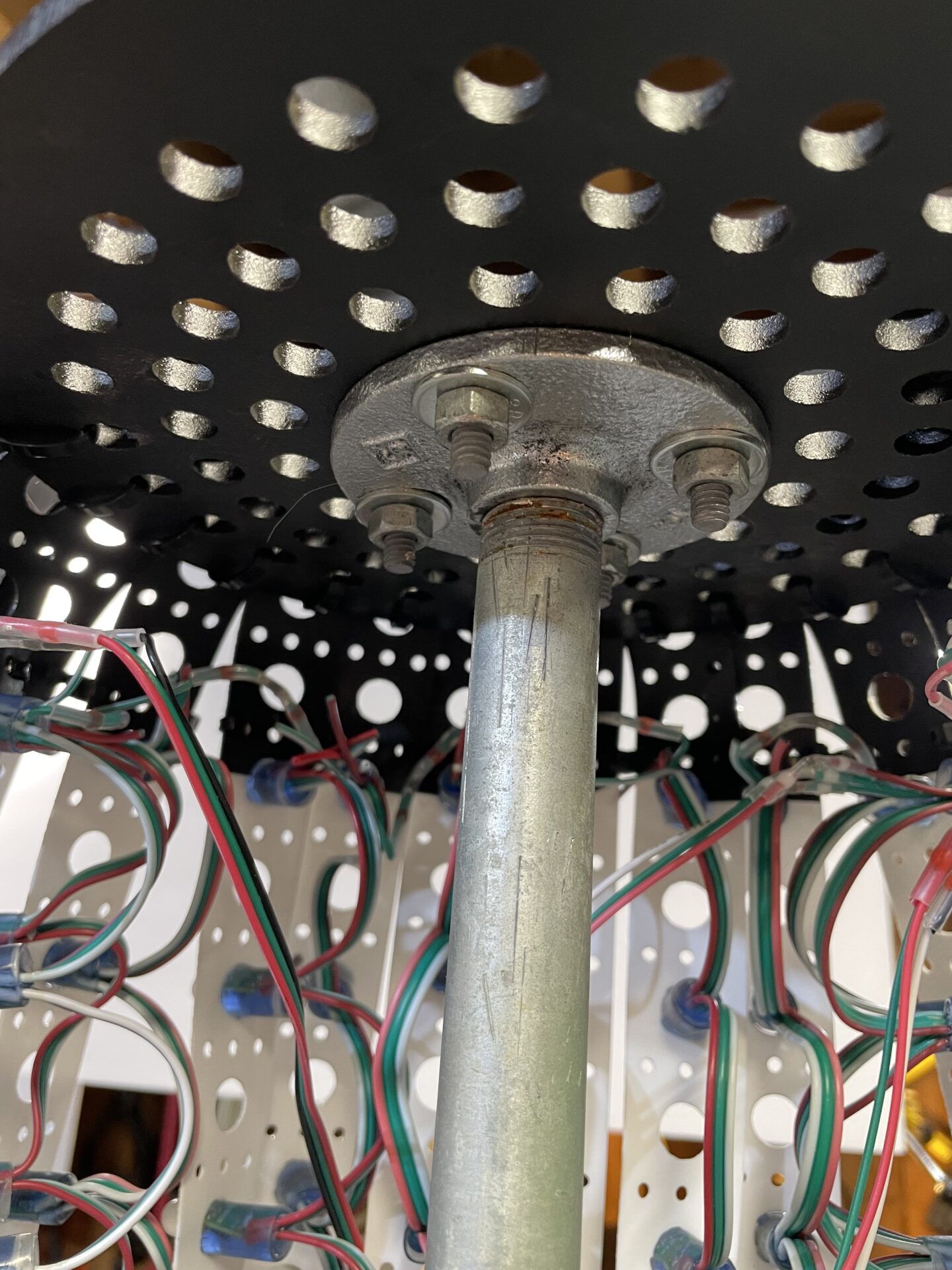 Perfect(?) Mini-Mid Tree Topper
I'm building a couple of new mid-trees (16 x 30) for our layout this year and believe I have found the perfect topper! It's 1/4″ cast iron with an epoxy coating, and it has holes pre-drilled in it! Plus, you can get it at almost any hardware or home center store, although some are made differently than others so you may need to shop around a bit, or order online.
It's an 8″ floor drain grate/strainer!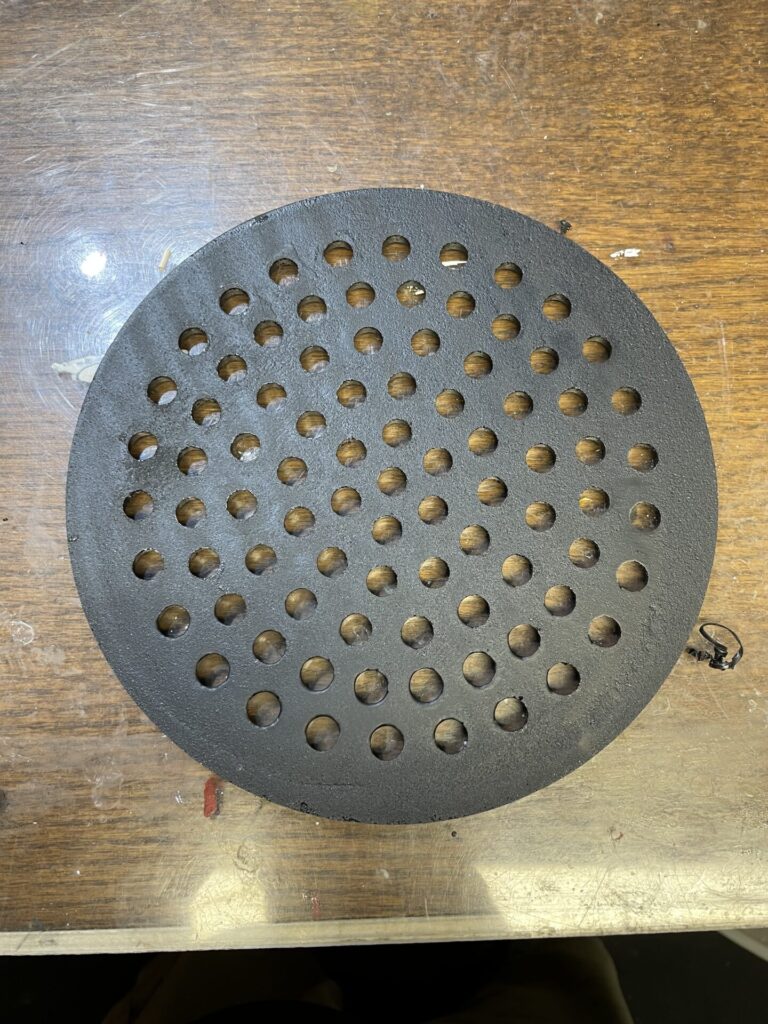 The ones I found are sold under the Sioux Chief and Oatey brands at Menards and Lowes respectively. I found the 8″ one as the perfect hole arrangement for this purpose.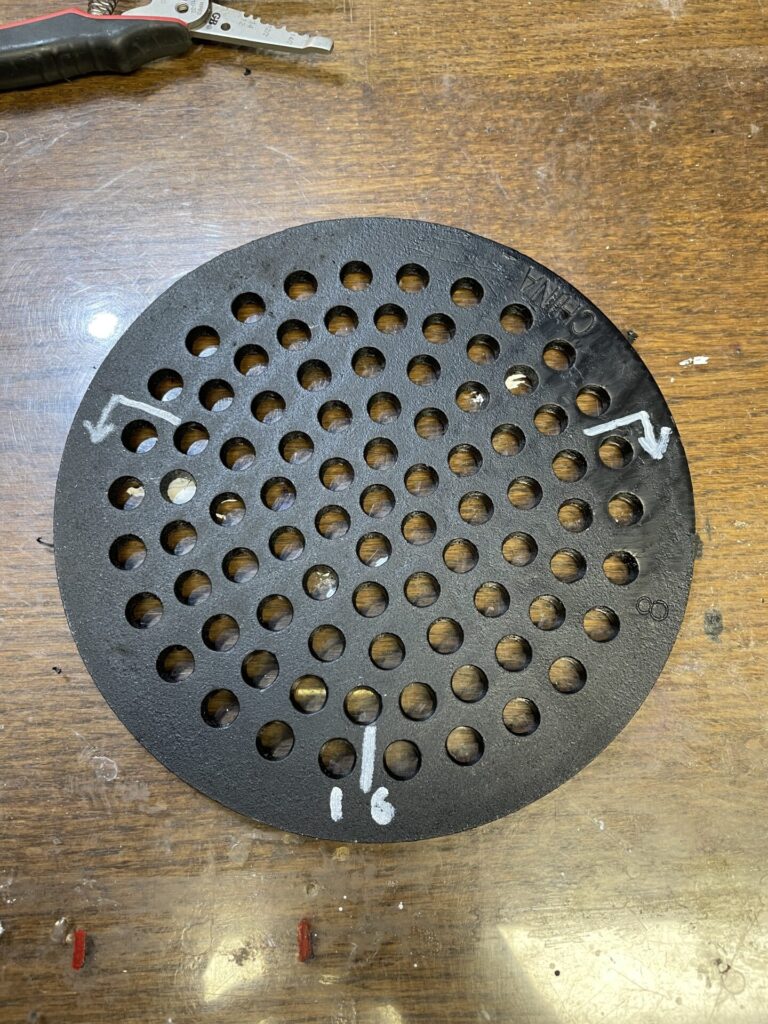 I found the holes are spaced perfectly to fasten a 3/4″ galvanized flange to it for mounting: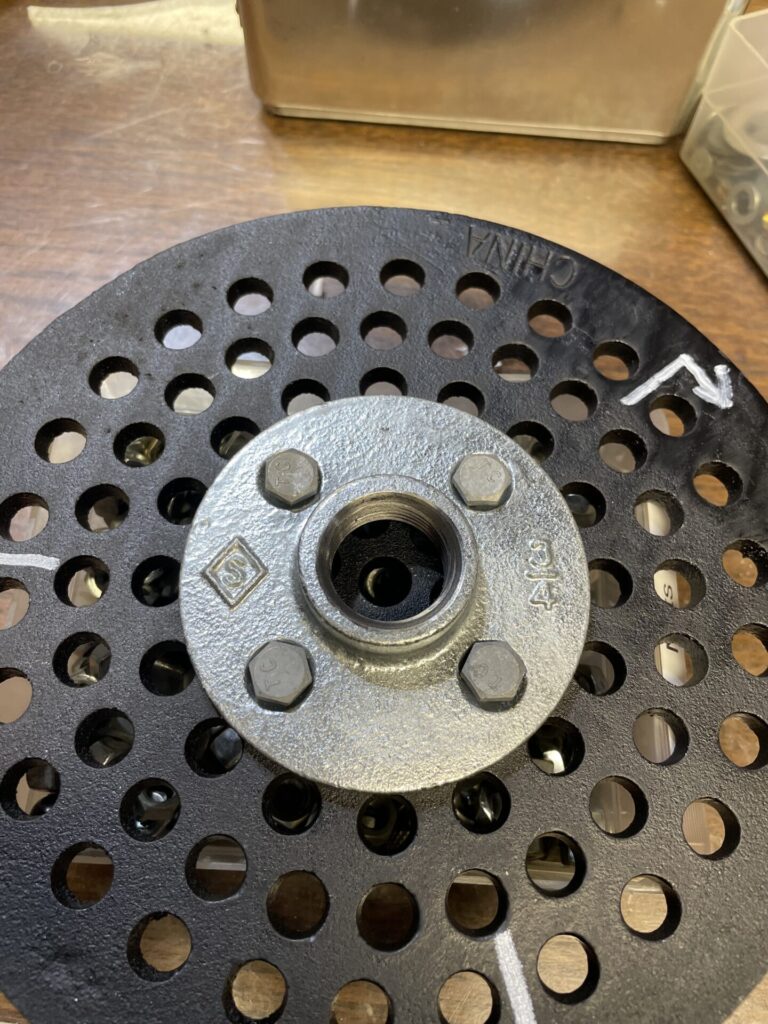 Unfortunately, I need to use a 1/2″ flange, which doesn't fit well without a bit of work. I had to drill out the holes to 1/2″. I started with a 3/8″ bit, and then finished with a 1/2″ bit.
After drilling out the holes, I was able to use 1/4″ bolts and nuts with washers to fasten the flange to the grate. For a small tree you could also just run a bolt through the center hole into a pipe cap with a hole drilled into the end, which I've done before for trees this size, but I decided a flange would be a bit stronger. I will be installing a bolt in the center hole to hold the stars for these trees.
Once that was done, all I had to do is zip-tie my pixel strip strands to the new topper. I could have used bolts too, but these trees will only be about 6′ tall and the zip ties are more than sufficient.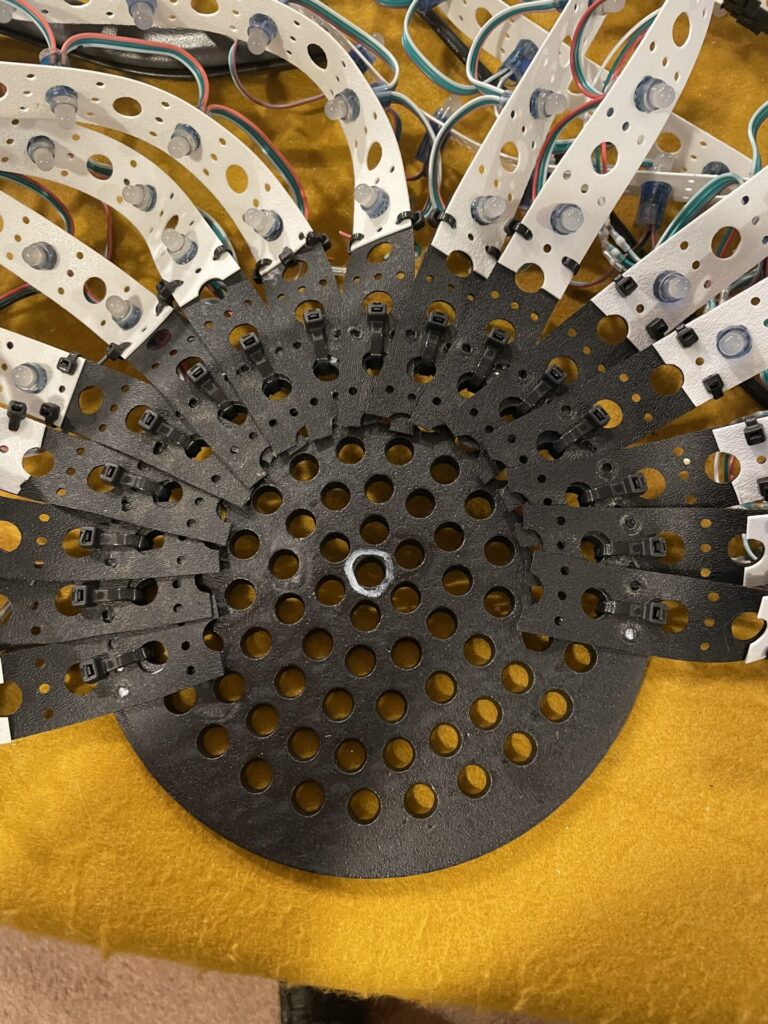 That's pretty much it. In this case the strands were already pre-wired as they are from an older mid-tree (I called it a "Mini-Mega Tree" before). Here is the underside of the topper for the finished tree: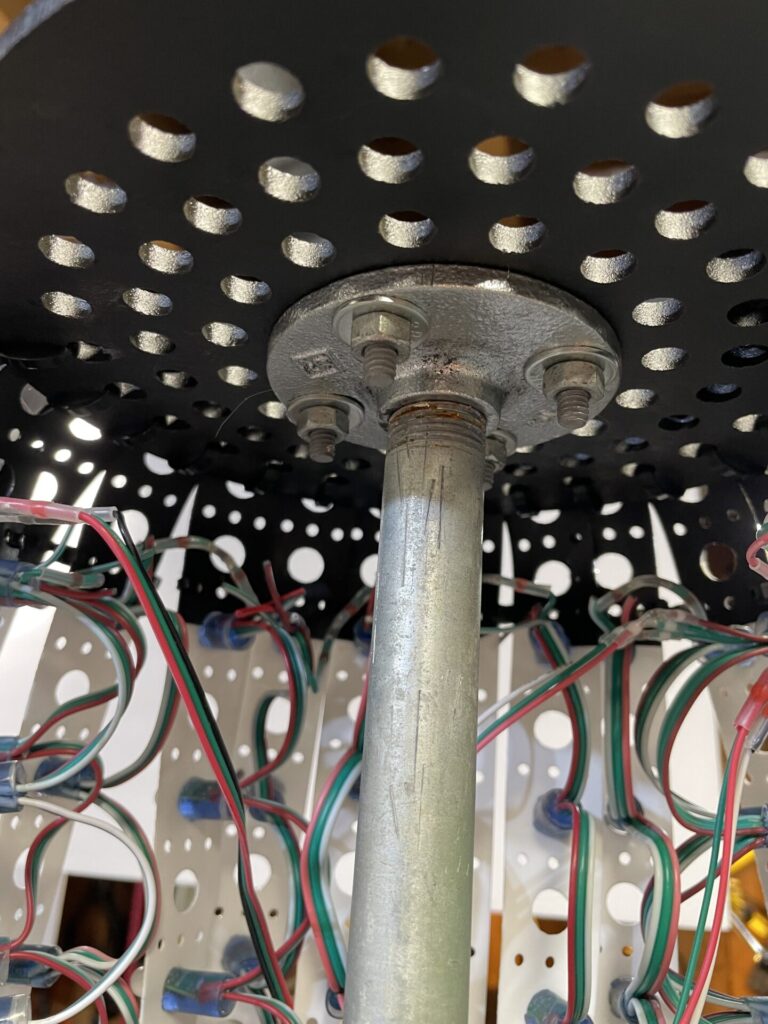 I built a duplicate using pixels and strips left over from a couple of mini-trees we haven't used for a couple of years. So, both trees are ready to go. Here are a few pics of the "new" 2nd tree in testing: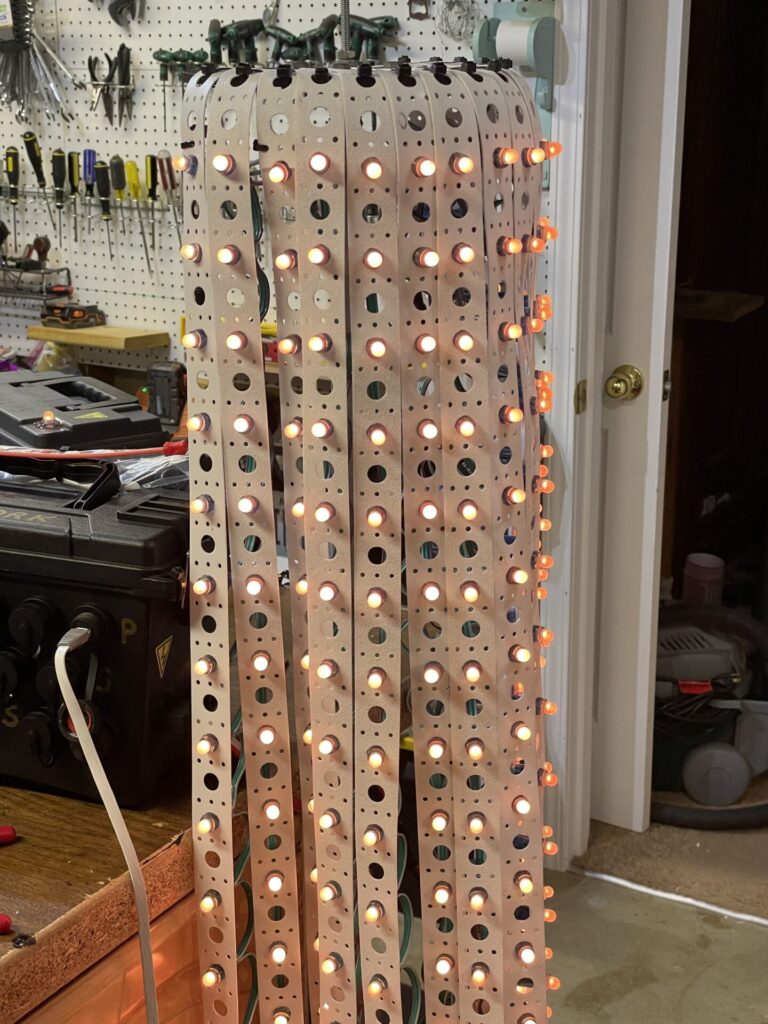 Similar to our "Maxi" Tree (smaller mega tree), these will be mounted on a 2×4 "cross" base, with the strips bungeed to the ground and at least one guy line in the back to offset the pull of the strips in front. Trees this size don't really need a full complement of guy lines, unlike the mega and maxi trees.
Safety Note:
It was pointed out to me that these are cast iron, which can be brittle and will break before it bends. This is why most mega tree toppers are made out of steel, and not something like this. I don't believe this will be a factor for trees under 10′ tall unless they are extremely dense with heavy guy lines. I'm using these for some small-mid trees, and not "mega" trees. I want them to have a similar structure as my mega and "maxi" trees for visual appeal and consistency, and these fit the bill perfectly for that.